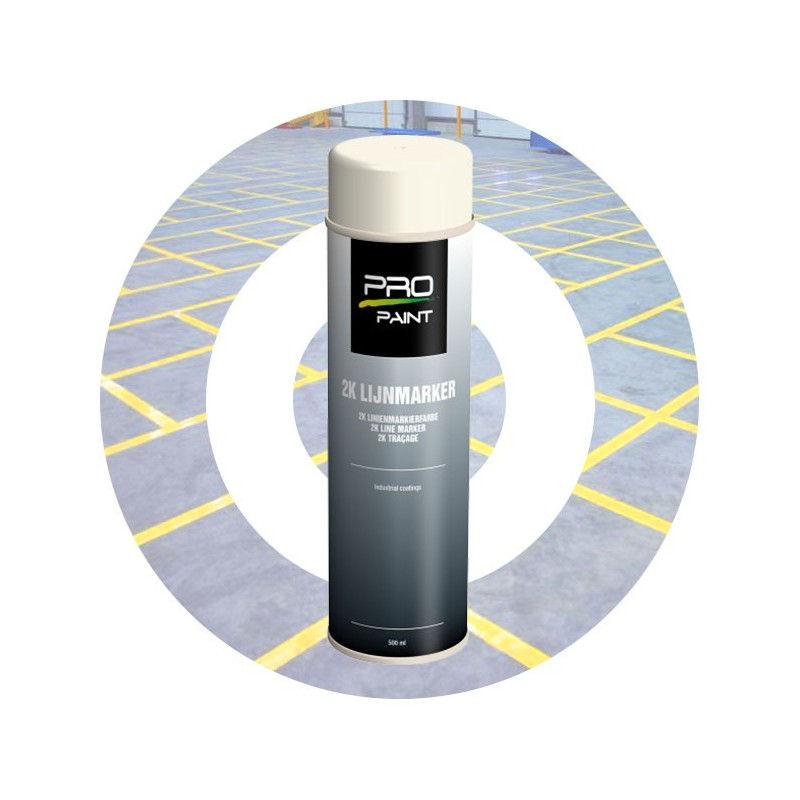  
2K Line marking paint
PRO-Paint 2K line marking paint based on two-component polyurethane paint. Very resistant, it is ideal for surfaces that are frequently subjected to friction and heavy loads.
See product's full description
Description of the PRO-Paint 2K line marking paint
PRO-Paint 2K Line marker is a very long-lasting two-component polyurethane paint for indoor and outdoor lines, for substrates under high stress and where extremely fast drying is required. PRO-Paint 2K Line marker has an excellent covering ability, is dirt-repellent and therefore easy to clean. Ideally suited for fast, easy and especially hard-wearing lines for parking lots, industrial buildings, workshops, factories, airports and warehouse floors. Applicable on most surfaces such as concrete, asphalt, wood, stone, metal and bitumen. For the best result we recommend using in combination with the PRO-Paint 4-wheel line marker.
Properties of the PRO-Paint 2K line marking paint
Based on a two-component polyurethane paint, therefore supports heavy loads
For internal and external marking
For areas subject to heavy traffic (e. g. forklifts, car parks)
Extremely fast drying
Anti-stain / repels dirt
Full traffic possible after 24 hours
Applications of the PRO-Paint 2K line marking paint
Lines
Wood
Concrete
Stone           
Asphalt
Parking lots
Industrial buildings
Workshops
Factories
Airports
Warehouse floors                                              
Product references
Very high covering ability
180˚ valve (can be used upside down)
Very long-lasting adhesion
Wear resistant                                                                                           
To use in PRO-Paint accessories
Fast drying
Resistant against petrol, chemicals and weather influences
Physical and Chemical Properties
Contents : 500 ML
Base : 2K PU (polyurethane)
Colour : White and yellow
VOC content : Approximately 40 m/m %
Solids content : Approximately 60 m/m %
Capacity : Approximately30-50 metres, depending on substrate and processing method
Drying time : at 23°C and rel. humidity 65%
Dust-dry after approximately 60 minutes
Light traffic from 2-12 hrs (take care with turning and / or standing still)
Hardened/ fully traffic after 24 hrs (Depending on ambient temperature, humidity and layer thickness)
Storage  / Shelf life : At least 12 months in tightly closed original packaging on dry, cool and frost-free place.
Can lifespan : CAUTION: use aerosol can within 1 hour after activation (due to hardening of paint in aerosol can)!
General : Do not use below 10°C. Do not apply outside if threatening rain, frost or in full sunlight. Never place aerosol can on heat source.
Data sheet
Product type

Line marking spray paint

Application area

Synthetic, Metal, Woods, Minerals, Sands, Gravels, Bitumens, Concrete

Volume

500 ml

Packaging

Box of 12 cans

Application domain

Ground signage
Instructions for use
Before use, carefully read the directions on the packaging and act accordingly.
Only for professional use. The surface should be clean, dry and free of grease. The aerosol can should be at room temperature. Ideal processing temperature 15 to 25°C. Shake the aerosol can well for 2 minutes before use and spray a sample. Apply the marker spray in the desired width. The aerosol can is 180° / can be used upside down. After use, clean the valve (turn aerosol upside down and press the nozzle for approximately 5 seconds). CAUTION: use within 1 hour after activation process due to hardening with the two-component technology.