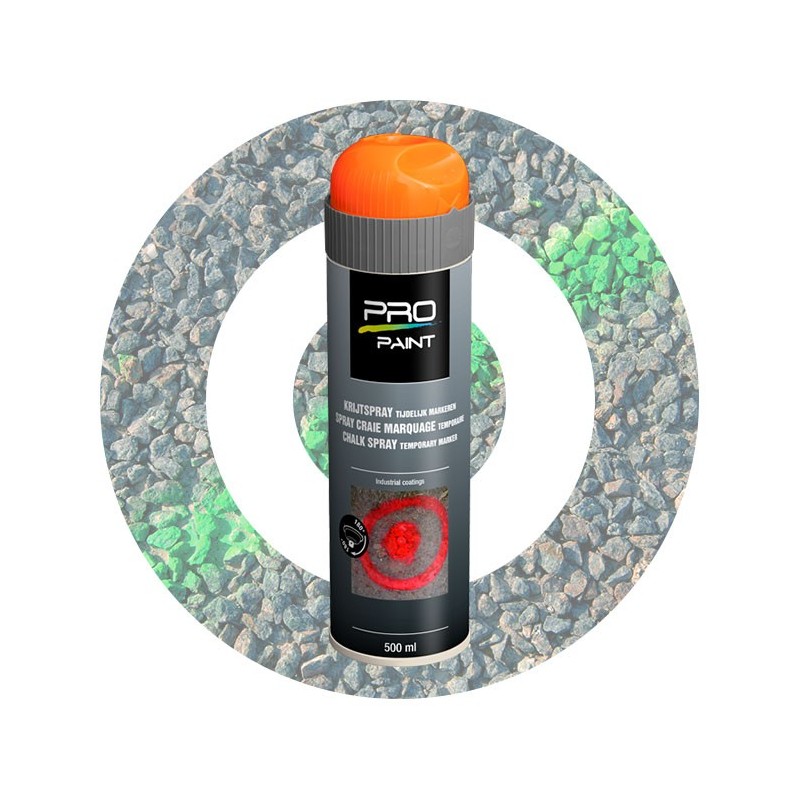  
Chalk Spray
This chalk spray for temporary marking is particularly suitable for very short markings. The paint marking is quickly erased over time due to weather or mechanical action.
See product's full description
Description of the PRO-Paint Chalk Spray
PRO-Paint Chalk spray is a highly visible temporary marking, lime-based paint.
Very environmentally friendly, it does not harm plants and the like. As a result very suitable for marking temporary events such as fairs, sporting events, funfairs, emergencies etc. Due to the environmentally friendly substances it is also exceptionally suitable for horticulture and agriculture. Including safety cap. Lifespan of several days to weeks, depending on layer thickness, substrate, weather influences and wear. Excellent covering ability. Suitable for application on substrates such as metal, concrete, asphalt, stone, wood, masonry, grass etc.
Properties of the PRO-Paint Chalk Spray
Ecological chalk paint for temporary marking
Disappears gradually due to bad weather: weather and/or traffic intensity
Ideal for temporary events such as trade fairs, sporting events, golf courses
Available in bright fluorescent colours
Ecological, safe for health
Fitted with safety cap, can be used with only one hand
Easy to apply with PRO-Paint Marking Accessories
Applications of the PRO-Paint Chalk Spray
Sporting events
Fairs
(Sports) fields
Golf courses
All temporary events or where the paint has to be/may be temporary visible
Product references     
Based on lime
Environmentally friendly, not harmful to human health
Fast drying
180˚ valve (can be used upside down)
Fluorescent
Safety cap
High covering ability
Physical and Chemical Properties
Contents : 500 ML
Base : Lime/ chalk
Colour :  Luminous orange, luminous blue, luminous pink, luminous red, luminous yellow, luminous green and white
VOC content : Approximately 58 m/m %
Solids content : Approximately 42 m/m %
Use : 1 to 2 m2 per 500ml, depending on substrate and application
Drying time : Dry after approximately 10-20 minutes (Depending on ambient temperature, humidity and layer thickness)
Storage  / Shelf life : At least 12 months in tightly closed original packaging on dry, cool and frost-free place.
General : Do not use below 10°C. Do not apply outside if threatening rain, frost or in full sunlight. Never place aerosol can on heat source.
Data sheet
Product type

marking paint - temporary marking, Fluorescent paint

Application area

Plaster, Synthetic, Plastic, Metal, Woods, Minerals, Sands, Gravels, Grass, Bitumens, Concrete

Volume

500 ml

Packaging

Box of 12 cans

Application domain

Mapping, tracking, picketing, event
Instructions for use
Before use, carefully read the directions on the packaging and act accordingly.
The surface should be clean, dry and free of grease. Cover the surrounding area if desired. The aerosol can should be at room temperature. Ideal processing temperature 15 to 25°C. Shake the aerosol can well for 2 minutes before use and spray a sample. Distance to the surface to be treated should be approximately 25 to 30 centimetres. Also shake occasionally during use. You can use this aerosol can upside down. After use, clean the valve (turn aerosol upside down and press the nozzle for approximately 5 seconds).