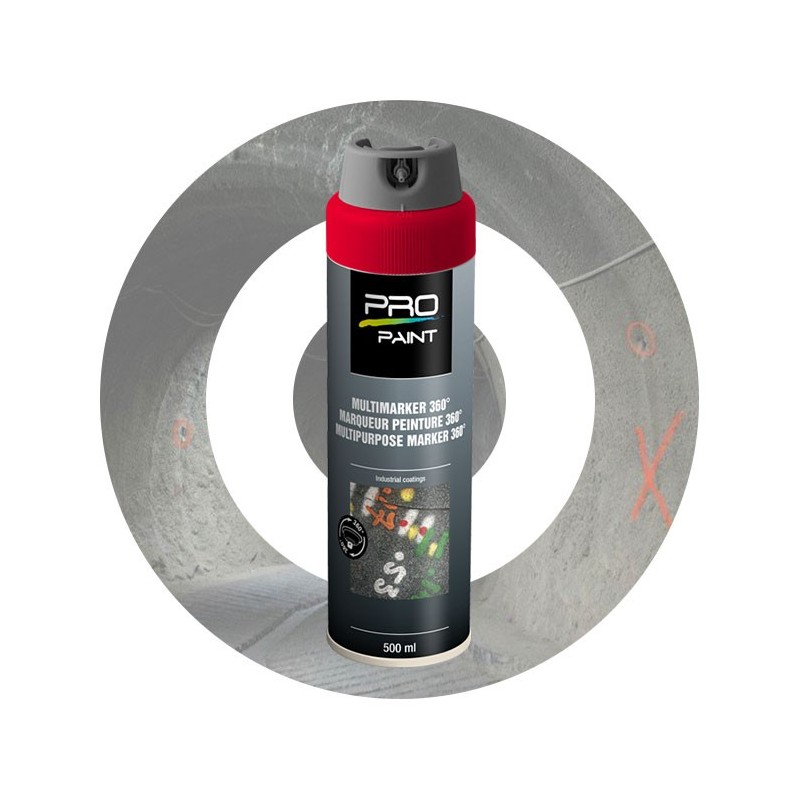  
360° Fluorescent Marking Paint
Fluorescent marking paint that works 360°, ideal for marking on vertical surfaces or, for example, on places where holes or pipes need to be drilled.
See product's full description
360° Fluorescent Marking Paint
Description of the PRO-Paint 360° Fluorescent Marking Paint
Multimarker Fluorescent is a very good visible marking paint. Multifunctional for use in construction, to mark where holes must be drilled or where pipes have to be installed etc. Due to special nozzle it is also excellently suited to 'write' with. Lifespan of approx. 8-12 months, high covering ability and weather resistant. Suitable for application on substrates such as metal, concrete, stone, wood, masonry, gypsum blocks etc.
Properties of PRO-Paint 360° Fluorescent Marking Paint
Ideal for signalling, safety marking and colour coding
For marking on vertical surfaces or marking pipes
Available in several fluorescent colours
Ergonomic cover
360° multidirectional valve (can be used in all directions)
Gives even more striking results on matt and white surfaces
To be finished with PRO-Paint clear varnish for greater wear resistance
Applications of the 360° Fluorescent Marking Paint
Metal
Masonry
Concrete
Wood
Write
Dots
Product references
Fast drying
360˚ valve (can be used in all directions)
Fluorescent
Ergonomic cap
Excellent adhesion
Physical and Chemical Properties
Contents : 500 ML
Base : Acrylic resin
Colour : Luminous pink, luminous red, luminous orange, luminous yellow, luminous blue, luminous green and white.
VOC content : Approximately 87 m/m %
Solids content : Approximately 13 m/m %
Heat resistant : Tot 110°C
Use : 1 to 2 m2 per 500ml, depending on substrate and application
Drying time : at 23°C and rel. humidity 65%
Dust-dry after 5 to 10 minutes
Touch-dry after 10 to 20 minutes
Hardened/ resprayable after 24 hrs (Depending on ambient temperature, humidity and layer thickness)
Storage  / Shelf life : At least 12 months in tightly closed original packaging on dry, cool and frost-free place.
General : Do not use below 10°C. Do not apply outside if threatening rain, frost or in full sunlight. Never place aerosol can on heat source.
Data sheet
Product type

Fluorescent paint, marking paint - construction, Multidirectional spray

Application area

Metal, Plastic, Synthetic, Plaster, Woods, Minerals, Concrete, Bitumens, Grass, Gravels, Sands

Marking time

6 to 12 months, 9 to 12 months, 12 months

Volume

500 ml

Packaging

Box of 12 cans

Application domain

Mapping, tracking, picketing
Instructions for use
Before use, carefully read the directions on the packaging and act accordingly.
The surface should be clean, dry and free of grease. Cover the surrounding area if preferred. The aerosol can should be at room temperature. Ideal processing temperature 15 to 25°C. Shake the aerosol can well for 2 minutes before use and spray a sample. Distance to the surface to be treated should be approximately 25 to 30 centimetres. Also occasionally shake during use. Due to the special valve, you can use the aerosol can in all spray positions.