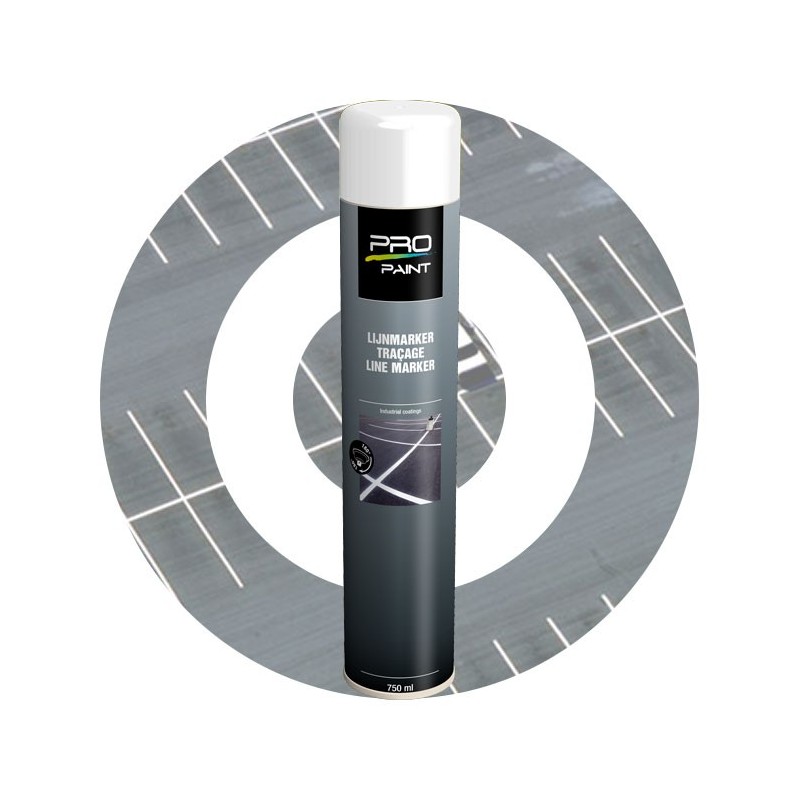  
Line Marking Paint
PRO-Paint Line Marking Paint is ideal for delimiting surfaces, optimizing traffic, drawing lines indoors or outdoors: logistics warehouses, sports complexes, grassy fields, bicycle paths, car parks.
See product's full description
Description of the PRO-Paint Line Marking Paint
PRO-Paint Line marker is a highly visible, fast drying marking paint with a very high wear resistance and an average lifespan of 1 to 2 years. Excellent covering ability. For line marking of parking spaces, floors and roads, warehouses, factories, recreational parks etc. Has a good resistance against petrol, chemicals and all weather influences. Applicable for use on most surfaces such as asphalt, stone, metal, concrete, wood etc.
Properties of the PRO-Paint Line Marking Paint
Ideal for line marking (even long distances) in warehouses, car parks, garages, factories, sports fields, stadiums and in all situations where traffic lane marking is required
Abrasion and friction resistant
Very good adhesion on almost all surfaces
Resistant to petrol, chemicals and weathering
Applications of the PRO-Paint Line Marking Paint
Lines
Wood
Concrete
Stone           
Asphalt                                                              
Product references
Very high covering ability
Long lasting adhesion
Wear resistant
To use in PRO-Paint accessories
Fast drying
Resistant against petrol, chemicals and weather influences
Physical and Chemical Properties
Contents : 750 ML
Base : Acrylic resin
Colour : White/yellow/black/blue/orange/red/luminous pink
VOC content : Approximately 70 m/m %
Solids content : Approximately 30 m/m %
Capacity : Approximately75 metres, depending on substrate and processing method
Drying time : Hardened after 16 hrs (Depending on ambient temperature, humidity and layer thickness)
Storage  / Shelf life : At least 12 months in tightly closed original packaging on dry, cool and frost-free place.
General : Do not use below 10°C. Do not apply outside if threatening rain, frost or in full sunlight. Never place aerosol can on heat source.
Data sheet
Product type

Line marking spray paint, Non fluorescent paint, Fluorescent paint

Application area

Synthetic, Metal, Woods, Bitumens, Concrete

Marking time

12 months

Volume

750 ml

Packaging

Box of 6 cans

Application domain

Ground signage
Instructions for use
Before use, carefully read the directions on the packaging and act accordingly.
The surface should be clean, dry and free of grease. The aerosol can should be at room temperature. Ideal processing temperature 15 to 25°C. Shake the aerosol can well for 2 minutes before use and spray a sample. Apply the marker spray in the desiredwidth. The aerosol can works 180° / can be used upside down. After use, clean the valve (turn aerosol upside down and press the nozzle for approximately 5 seconds).