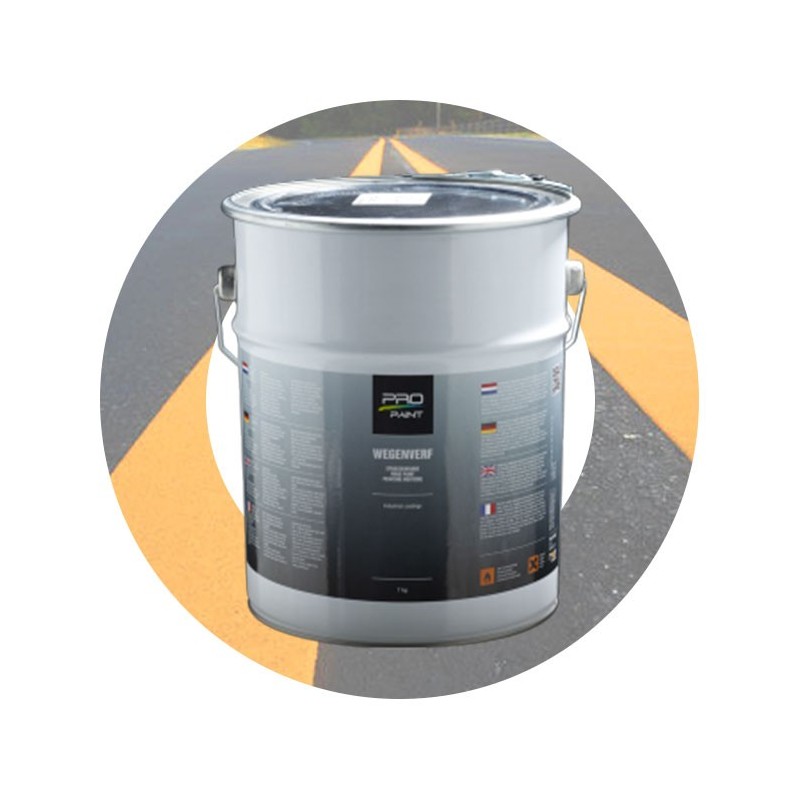  
Road Paint
PRO-Paint Road Paint for marking roads, car parks and sidewalks on asphalt, tarmac and concrete. Resistant to a very large number of wheel arches.
See product's full description
Description of the PRO-Paint Road Paint
PRO-Paint Road Paint in a spray can is an industrial premium road paint, applicable on virtually all surfaces such as concrete, asphalt and pavers. Easy to apply using a brush or roller, but also exceptionally suitable for spray equipment. Has a very good adhesion without "bleeding" and a high covering ability.
Properties of the PRO-Paint Road Paint
Highly insulating road paint
Can be used on asphalt, concrete, slag, very open asphalt, etc.
Easy to apply with a brush and/or roller
Perfectly suited for airless sprayers
Quick drying
High fixed solid content
Highly insulating and abrasion resistant
High resistance to road salts
Strong coverage without oozing
Applications of the PRO-Paint Road Paint
Concrete
Pavers
Asphalt
Many other common surfaces in infrastructure
Product references
Optimal drying
Easy to use
Good elasticity and abrasion resistance
High fixed solids content
Good resistance against road salt
Excellent adhesion to concrete and asphalt coating without bleeding
In accordance with Construction Product Directive EU A-i-SG 500g/l
Excellent resistance to (varying) weather conditions
Physical and Chemical Properties
Contents : 7 KG
Composition : Acrylic binder 15% (±2.0%)
Weather resistant pigments 55% (±2.0%)
Acetates (aromatic free) solvent 30% (±2.0%)
VOC: <476 g/L
Fixed solids content : weight 65% (±2.0%) volume 44% (±2.0%)
Colour : white (RAL 9010), traffic yellow (RAL 1023), traffic red (RAL 3020), traffic blue (RAL 5017), traffic green (RAL 6024) and black (RAL 9005)
Drying time : 25' ASTM D711-75 at a quantity1000 g/m2 (hardened for traffic at temp. 20°C > +/- 30 minutes)
Viscosity : 80 KU (± 5 KU) at 25°C
Use : 400-500 gr. Per m2
Relative density at 20°C : 1.42 (± 0.05)
Shelf life : 12 months in original, unopened packaging, free fromextreme cold and extreme heat
Data sheet
Product type

Line marking spray paint

Application area

Concrete, Bitumens, Woods, Metal

Packaging

Per unit

Application domain

Ground signage
Instructions for use
Before use, carefully read the directions on the packaging and act accordingly.
Remove all loose particles from the substrate, make sure the surface is dry, dust-free and free of grease. Small surfaces can be painted with a roller or brush. Can also be sprayed with both classic spray equipment for road paint as well as airless spray equipment. Spray gun: 4-6mm. Spray pressure 2.5-3 bar. Pressure on the paint (depending on the diameter and length of hoses) 1.5-2 bar. Airless nozzle: from 0.019. The paint is ready to use, but additions of ± 5% thinner do not adversely affect the drying process.