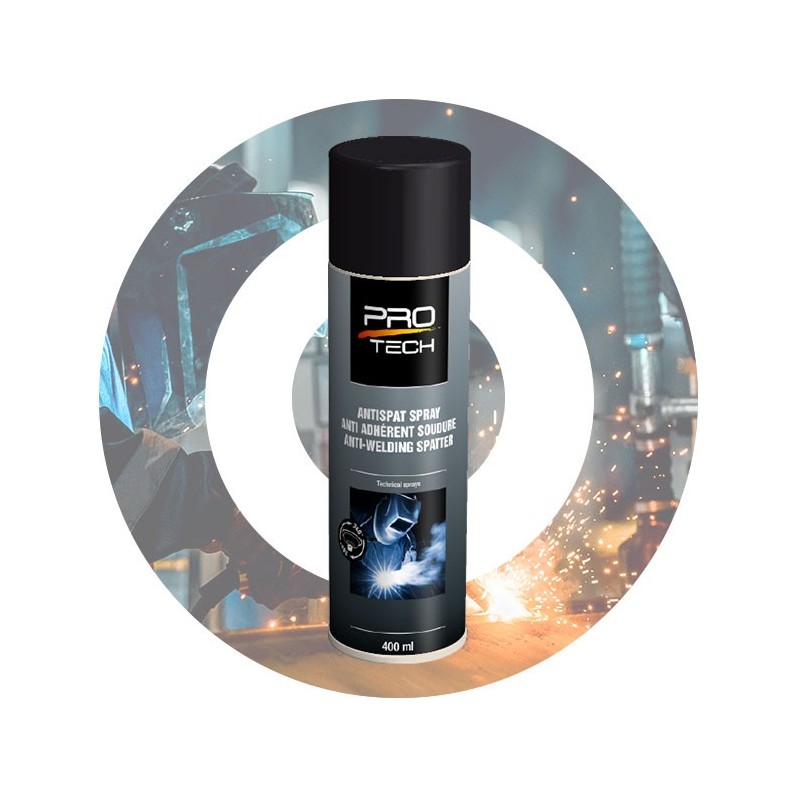  
Anti-Welding Spatter
Our Anti spatter spray prevents welding spatter from adhering to welding nozzles and burns caused by metal particles in and around the weld area. Easy to use with a silicon-free formulation. Can be used for a wide range of welding techniques. The protection provided for welding nozzles will extend the working life of the welding gun.
See product's full description
Descriptionof the PRO-Tech Anti-Welding Spatter
PRO-Tech Anti-Welding Spatter is a high-quality welding spray to preventthe adhesion of welding spatter on the welding mouth and the surroundings of the welding zone. A user-friendly silicone-free agent that protectsagainst the burning in of metal particles and not accumulating in the welding jaw if this is also treated with the spray. PRO-Tech Anti-welding spatter can be used at any angle (360°).
Specifications of the PRO-Tech Anti-Welding Spatter
Packaging: size 500ml (400ml net)
Composition: aqueous phase blend
Appearance: clear liquid Propellant: nitrogen
VOC-EU g/l: 0 g/l
Relative density (20°C g/ml): 1.013
Vapour pressure at 20°C: 6.5 bar
Spray flow: 1.6 g/sec
Applications of the PRO-Tech Anti-Welding Spatter
Welding guns
Welding zones
Product references
Inflammable
Applicable for various welding techniques
Silicone-free
Protects the welding mouth > increases service life
Minimum smoke development
Protects the surroundings of the welding joint
Reduces welding spatter
Protects against burning in
360° valve
Physical and Chemical Properties
Contents : 300 ML (400ML size)
Base : Special mix of ingredients in water
Appearance : Clear liquid
Propellant : Nitrogen
VOC-CH % : 0 %
VOC-EU g/l : 0 g/l
Specific gravity (g/ml 20°C) : 1.013
Vapour pressure at 20°C : 6.5 bar
Spraying flow rate : 1.6  g/sec
Data sheet
Product type

Protection spray

Application area

Metal

Volume

400 ml

Packaging

Box of 12 cans

Application domain

Maintenance, Preparion of the supports, Security
Instructions for use
Before use, carefully read the instructions on the packaging and act accordingly.
Store frost free.
The aerosol can should be at room temperature.
The ideal processing temperature is 5 to 35°C.
Shake the aerosol can before use.
Spray the parts to be protected and carry out the welding work (both welding gun as welding zone). Remove welding spatter with a wire brush. If needed, remove oil with water or a damp cloth.
DANGEROUS. FOLLOW THE PRECAUTIONS.
WARNING
H229 Pressurised container: May burst if heated.
H312 - Harmful in contact with skin.
H319 - Causes serious eye irritation.
H332 - Harmful by inhalation.