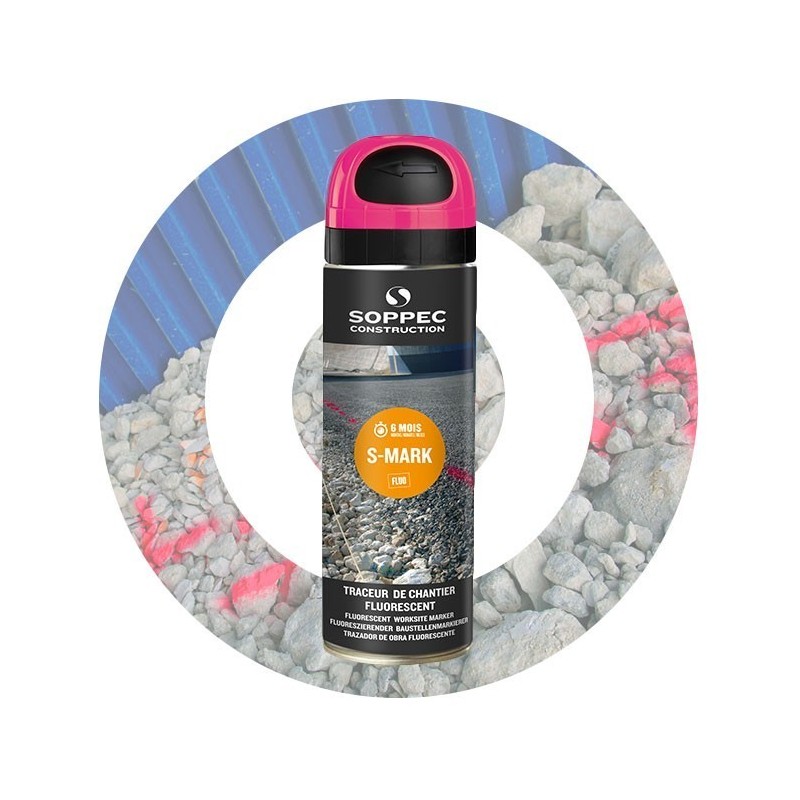  
S MARK fluorescent marking spray paint
S MARK is a fluorescent marking spray (6 months duration) used for all general marking works in various fields: earthworks, pipework and construction, roads maintenance, buried networks. Easy and safe to use, S MARK is now fitted with the patented Soppec «TP» safety spray cap.
See product's full description
S MARK fluorescent marking spray paint
S MARK : THE FLUORESCENT MARKING SPRAY PAINT
WITH BEST QUALITY/PRICE COMPROMISE
Properties of the S MARK fluorescent worksite marker
Usable on a very wide range of surfaces such as: concrete, asphalt, grass, gravel, sand, stone, wood.
A particularly robust safety cap (no breakage if a full aerosol is dropped from a height of 1.50m)
Rapid drying: approximately 10 min
Good autonomy and coverage ability: 1 aerosol is sufficient to durably mark an 55m line (2cm wide) using the Soppec marking stick
Good marking duration including on damp surfaces, of up to 6 months (dependent on the surface, the conditions of application and UV exposure)
Temperature range: -20°C to 50°C
S MARK is available in a wide range of colours.
Aerosol cans, gross volume 650 ml, net volume 500 ml, in boxes of 12.
DANGEROUS. FOLLOW THE PRECAUTIONS.
Specifications of the S MARK spray marker
Composition
Binder: acrylic.
Pigments: mineral and organic, free from heavy metals.
Solvents: complex blend free from chlorinated solvents and aromatic compounds.
Propellant: specific blend of isobutane and propane.
Data sheet
Product type

marking paint - construction, Fluorescent paint

Application area

Synthetic, Plastic, Metal, Woods, Minerals, Sands, Gravels, Grass, Bitumens, Concrete

Marking time

6 months

Volume

500 ml

Packaging

Box of 12 cans

Application domain

Mapping, tracking, picketing
Application method
Manually or using our purpose-designed application equipment (see bellow).
BEFORE USE: shake vigorously head down.
AFTER USE: purge head up.
Health and safety
Safety data sheets are available free of charge on the internet: www.quick-fds.com.
No paint mist or drips during use.
CLP labelling with a single pictogram.
DANGER
607-022-00-5 ETHYL ACETATE
H222 Extremely flammable aerosol.
H229 Pressurised container: May burst if heated.
H319 Causes serious eye irritation.
H336 May cause drowsiness or dizziness.
EUH066 Repeated exposure may cause skin dryness or cracking.