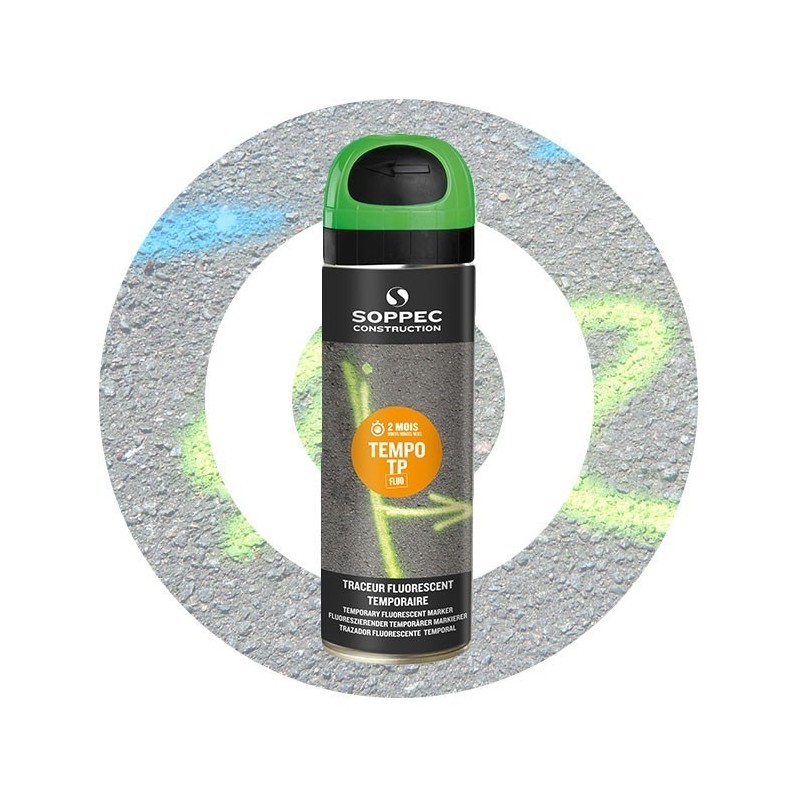  
TEMPO TP temporary marking spray paint
TEMPO TP is a temporary marking paint that is used for short term marking (2-8 weeks). This Chalk-based product is erasable under mechanically means (water spray, low pressure cleaner, brushes…). This easily allows its use on classified or protected areas, for urban environment, for landscaping plan. Easy and safe to use, TEMPO TP is fitted with the patented Soppec «TP» safety spray cap.
See product's full description
TEMPO TP temporary marking spray paint
TEMPO TP : THE IDEAL MARKING SPRAY PAINT
FOR FLUORESCENT AND TEMPORARY MARKINGS
Properties of the TEMPO TP temporary marking paint
Excellent adhesion on various surfaces: bitumes, grass, concrete, sand (for others surfaces test before use)
Higly visible from afar
A particularly robust safety cap (a full aerosol dropped from a height of 1.50m will remain intact).
Quick drying: 10 mn
Use temperature range: -20 to 50°C
Short marking duration including on damp surfaces, of up to 8 weeks depending on the surface, the conditions of application and UV exposure
Product available in a large wide of colours
Aerosol cans, gross volume 650 ml, net volume 500 ml, in boxes of 12
DANGEROUS. FOLLOW THE PRECAUTIONS.
Specifications of the TEMPO TP temporary spray marker
Composition
Binder: complex blend of mineral oils and clays.
Pigments: mineral and organic, free from heavy metals.
Solvents: complex blend free from chlorinated solvents and aromatic compounds.
Propellant: specific blend of isobutane and propane.
Data sheet
Product type

marking paint - temporary marking, marking paint - construction, Fluorescent paint

Application area

Synthetic, Plastic, Metal, Woods, Minerals, Sands, Gravels, Grass, Bitumens, Concrete

Marking time

2 months

Volume

500 ml

Packaging

Box of 12 cans

Application domain

Mapping, tracking, picketing
Application method
Manually or using our purpose-designed application equipment (See bellow).
BEFORE USE: shake vigorously head down.
AFTER USE: purge head up.
Health and safety
Safety data sheets are available free of charge on the internet: www.quick-fds.com.
No paint mist or drips during use.
CLP labelling with a single pictogram.
DANGER
607-022-00-5 ETHYL ACETATE
H222 Extremely flammable aerosol.
H229 Pressurised container: May burst if heated.
H319 Causes serious eye irritation.
H336 May cause drowsiness or dizziness.
EUH066 Repeated exposure may cause skin dryness or cracking.