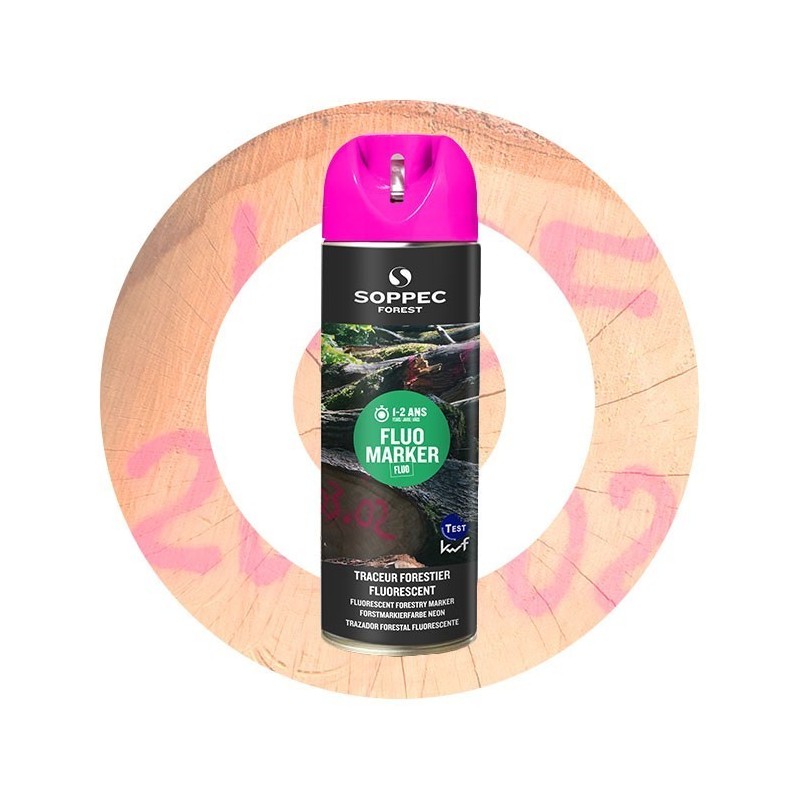  
FLUO MARKER Fluorescent Tree Marking Spray Paint
FLUO MARKER spray paint, Benchmark for professionals in the wood sector, the tree marking neon spray paint (6-12months) in the SYLVAMARK® range is ideal for many uses: Short- and medium-term tree marking for felling, marking for thinning, boundaries of temporary stands, wood stands during sales, log inventories, sawing product inventories, etc.
See product's full description
FLUO MARKER Fluorescent Tree Marking Spray Paint
FLUO MARKER spray paint, the ideal choice for wood cutting professionals
Properties of the FLUO MARKER tree marking spray paint
High visibility, including from afar, when applied to any type of timber thanks to its fluorescent formulation
Excellent performance and covering power without drips
Marking duration: 1-2 years depending on the surface, application conditions and UV exposure
Temperature range: -15°C to 50°C
Drying time: approx 5 min
Aerosol cans, volume 650 ml / 500 ml net, in boxes of 12
DANGEROUS. FOLLOW THE PRECAUTIONS.
Specifications of the FLUO MARKER forestry marking paint
Composition
Binder: acrylic
Pigments: mineral and organic, free from lead and cadmium
Solvents: complex blend free from chlorinated solvents and aromatic compounds
Propellant: specific mix of isobutane and propane
Data sheet
Product type

marking paint - forestry marking, Fluorescent paint

Application area

Synthetic, Plastic, Metal, Woods, Minerals, Sands, Gravels, Grass, Bitumens, Concrete

Marking time

1 to 2 years

Volume

500 ml

Packaging

Box of 12 cans

Application domain

Wood, Forests, Plots marking, landscape, gardeners marking
Application method
Manually or using our purpose-designed application equipment (forestry grip or SYLVAGUN tree marking gun), see bellow.
Before use (head up): shake vigorously
After use: purge head down.
Health and safety
Safety data sheets are available free of charge on the internet: www.quick-fds.com.
No paint mist or drips during use.
CLP labelling with a single pictogram.
DANGER
Extremely flammable aerosol.
H229 Pressurised container: May burst if heated.
EUH066 Repeated exposure may cause skin dryness or cracking.