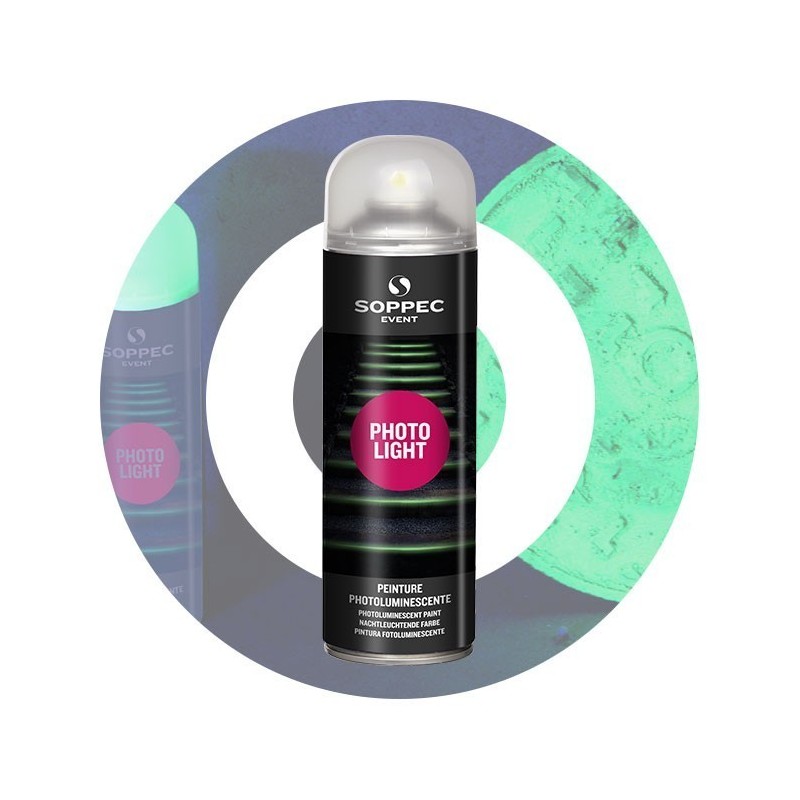  
PHOTO LIGHT Photoluminescent Spray Paint
PHOTO LIGHT is a glow in the dark spray paint that uses photoluminescent properties (restoration of light in darkness after exposure to natural or artificial light) for all types of signalling/marking in darkness, both inside and out. Safety, event or sports marking.
See product's full description
PHOTO LIGHT Photoluminescent Spray Paint
PHOTO LIGHT: THE PHOTOLUMINESCENT SPRAY PAINT
THAT RESTITUES LIGHT IN DARKNESS
Properties of the PHOTO LIGHT Glow in the dark spray paint
Can be applied to a many different surfaces and materials. It is advisable to test before applying to plastic, synthetic and painted surfaces.
Meets DIN 67510 requirements.
Indefinite repetition of the photo luminescent effect.
Visible for several hours without the presence of a light source (up to 8 hours).
Drying time: 15 to 20 min.
Application temperature: -15°C to 50°C
Aerosol cans, volume 650 ml / 500 ml net, in boxes of 6
DANGEROUS. FOLLOW THE PRECAUTIONS.
Specifications of the PHOTO LIGHT photoluminescent spray paint
Composition
Binder: acrylic.
Pigments: latest generation photoluminescent pigments (offering greater persistence in both duration and intensity). Free from lead, cadmium and any radioactive material.
Solvents: complex blend free from chlorinated solvents and aromatic compounds (toluene, xylene, etc).
Propellant: specific blend of isobutane and propane.
Application method
Manually or using our purpose-designed application equipment.
Vertical use (head-up).
Before use: shake vigorously head down.
After use: purge head down.
If the surface being painted is not white or a very pale colour, it is advisable to apply one or two coats of white paint beforehand.
The whiter the background surface, the more luminous the marking.
Spray at a distance of approximately 10 cm to 20 cm from a clean dry surface. Apply in light, even coats.
The thicker the layer of PHOTO LIGHT, the more intense and long-lasting the effect. The photoluminescence of the paint can be renewed indefinitely with no loss of quality. Adjacent surfaces may require protection to prevent inadvertent marking (spray mist).
Health and safety
Safety data sheets are available free of charge on the internet: www.quick-fds.com.
No paint mist or drips during use.
CLP labelling with a single pictogram.
Please refer to the specifications sheet for the best conditions of use for this product.
DANGER
607-022-00-5 ETHYL ACETATE
H222 Extremely flammable aerosol.
H229 Pressurised container: May burst if heated.
H319 Causes serious eye irritation.
H336 May cause drowsiness or dizziness.
EUH066 Repeated exposure may cause skin dryness or cracking.
Data sheet
Product type

See in the dark paint, product for safety

Application area

Minerals, Woods, Metal, Plastic, Fabrics, Synthetic, Plaster, Sands, Gravels, Concrete, Bitumens, Grass

Volume

500 ml

Packaging

Box of 6 cans

Application domain

Mapping, tracking, picketing, Wood, Forests, Plots marking, event, Security