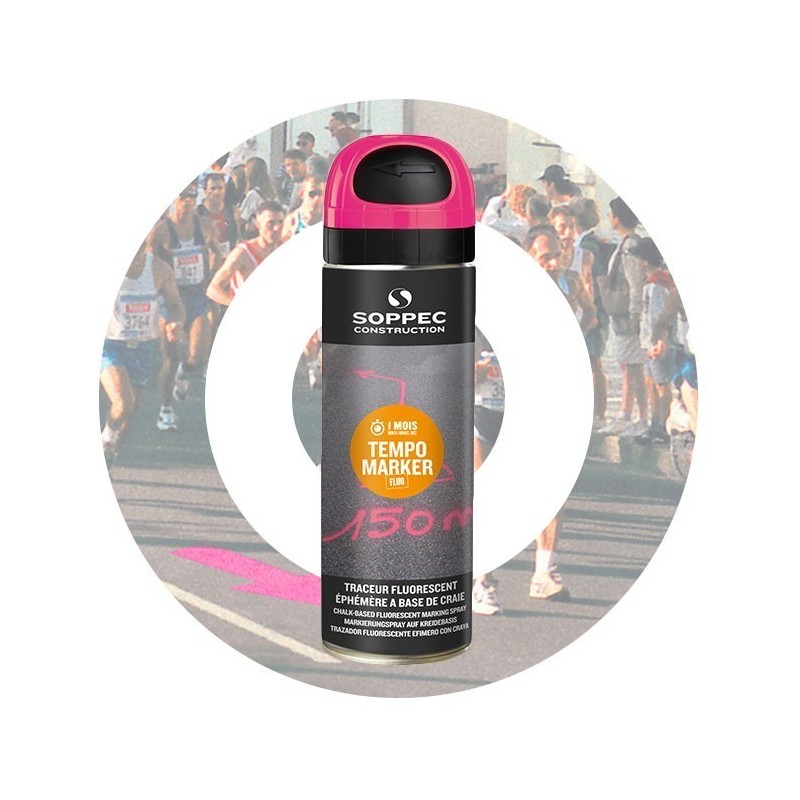  
TEMPO MARKER Temporary marking spray paint
TEMPO MARKER paint is the ideal aerosol for short-lived ground markings. Especially suitable for very short-term markings, this temporary marking paint is useful for signalling and marking out sports (races, hikes) and other events (car boot sales, markets, shows and leisure events).
See product's full description
TEMPO MARKER Temporary marking spray paint
TEMPO MARKER : THE TEMPORARY MARKING SPRAY PAINT FOR VERY SHORTTERM MARKING
Properties of the TEMPO MARKER temporary marking spray paint
Can be used on many different surfaces: concrete, grass, wood and asphalt.
A particularly robust safety cap (no rupture if a full aerosol is dropped from a height of 1.50m).
Highly fluorescent, visible from a distance.
Marking duration: from a few days to 1 month maximum
Rapid drying: approximately 10 min.
Temperature range: -20 to 50°C
Natural elimination of the colour completed by mechanical action (water jet, low pressure cleaner, brushing, etc).
DANGEROUS. FOLLOW THE PRECAUTIONS.
Specifications of the TEMPO MARKER temporary marking paint
Composition
Binder: acrylic.
Pigments: mineral and organic specifically selected to facilitate rapid degradation due to UV exposure.
Solvents: complex blend free from chlorinated solvents and aromatic compounds.
Propellant: specific blend of isobutane and propane.
Application method
Manually or using our marking accessories (Marking rod & Marking paint hand gun).
Before use: shake vigorously head down.
After use: purge head up.
Health and safety
Safety data sheets are available free of charge on the internet: www.quick-fds.com.
No paint mist or drips during use.
CLP labelling with a single pictogram.
DANGER
607-022-00-5 ETHYL ACETATE
H222 Extremely flammable aerosol.
H229 Pressurised container: May burst if heated.
H319 Causes serious eye irritation.
H336 May cause drowsiness or dizziness.
EUH066 Repeated exposure may cause skin dryness or cracking.
Data sheet
Product type

marking paint - temporary marking, Fluorescent paint

Application area

Synthetic, Plastic, Metal, Woods, Minerals, Sands, Gravels, Grass, Bitumens, Concrete

Marking time

1 month

Volume

500 ml

Packaging

Box of 12 cans

Application domain

Mapping, tracking, picketing, Security, event